SOME LANGUAGES
[

|

|
|
|
|
]
these are completed sites <- | -> these sites contain versions of the book only
1. Arteha S.N. Criticism of the Foundations of the Relativity Theory
THE ENGLISH VERSION OF THE BOOK
[
see .html
|
pdf
|
save -ps.zip
]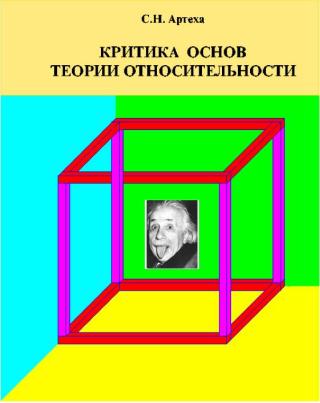 Copyright &copy 2003 by S.N. Arteha
Editorial URSS, Moscow 2004 (in russian), ISBN 5-354-00545-0
[in English] DOI:
http://doi.org/10.5281/zenodo.2578952
Publishing House LKI, Moscow 2007 (in russian), ISBN 978-5-382-00220-0
LENAND, Moscow 2018 (in russian), ISBN 978-5-9710-5332-3



3. Appeal to Adherents


4. International Scientific Conference "Space, Time, Gravitation" (archive)
---
Cite this site, if it is OK, please.
The author will be thankful for proof-reading and corrections of languages.
E-mail (in russian or english only):